501(c)(3) Application Process Made Easy
At BryteBridge Nonprofit Solutions, we make it easy for nonprofits to focus on their mission. Leave the paperwork to us.
The 501(c)(3) application process is a complex and time-consuming process. It involves completing and submitting Form 1023, which requires detailed information about the organization's purpose, activities, governance structure, finances, and more. The IRS carefully reviews the application to determine if the organization meets the requirements for tax-exempt status.
It's important to note that not all organizations qualify for tax-exempt status, and even those that do may face ongoing compliance requirements to maintain their status.
Don't let the complexity of the application process deter you from pursuing tax-exempt status for your organization.
Let us help you navigate the process with ease and confidence.
Benefits 501(c)(3) Status
Nonprofits with 501(c)(3) tax exemption status are exempted from paying federal taxes. However, they are still required to file their nonprofit's IRS Tax Form 990 or Form 990-N for nonprofit organizations.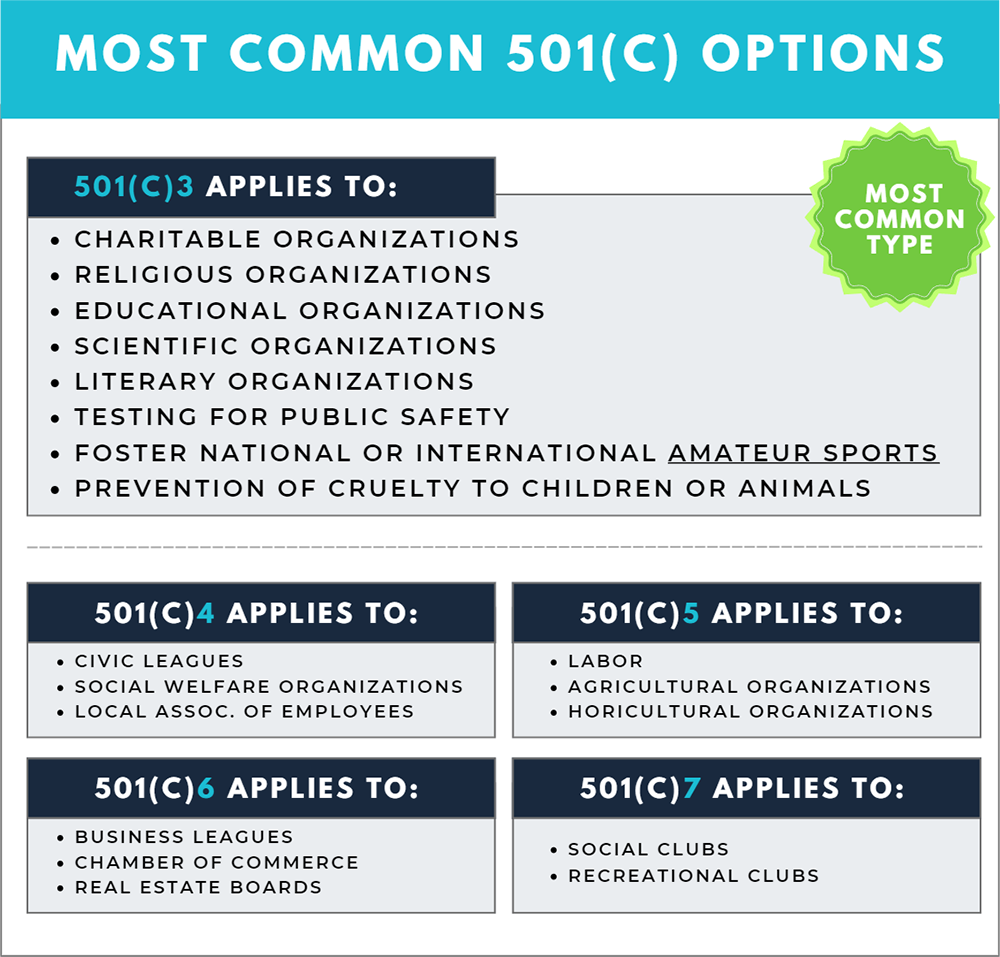 No More Headaches with Paperwork!
Our 501(c)3 Comprehensive services include everything you need to incorporate, obtain 501(c)3 status, and meet initial state nonprofit operating requirements. Starting your nonprofit shouldn't break the budget.
Easy to Understand Pricing, No Hidden Costs
We have 3 packages tailored to your needs. Explore our services below and order them within 2 minutes!
1. Essentials
501(c)(3) Approval Guarantee

501(c)(3) Filing IRS 1023 Form

Conflict of Interest Policy

Bylaws Aligned to IRS Requirements

Financial Budget Template
2. Growth
Everything in Package Essentials PLUS:

1 Year Registered Agent ($129 Value)

1 30-Minute Support Call*
3. Complete Concierge
Everything in Package 2Growth PLUS:

State Sales Tax Exemption*

State Income Tax Exemption*

1st Year 990-N ($149 Value)

2 30-Minute Support Calls*

Live Monthly Q&A Webinars*

Board Management Agreements

Board Management Applications

Volunteer Guide and Templates

1-Year of BryteBridge Connect ($1200 Value.
Don't know which package to choose?
Not all services are listed here separately. The above price table is for reference.
501(c)3 Approval Guarantee
We guarantee your 501(c)(3) tax-exempt status will be granted by the IRS or we give your money back. We've helped over 35,000 nonprofit organizations and stand behind our work. 
We obtain a federal employment identification number on your behalf. This is the equivalent of your organization's social security number.
Start your nonprofit education with a collection of our guides. They include:
Board Member Giving Plan
Building Your Brand Identity
Donor Development, Life Cycle, and Recognition
Nonprofit Consultation (Are you Ready)
A nonprofit consultant will help you determine your start-up readiness level, appropriate 501 application, and educate on the best BryteBridge solutions for your organization.
Unlimited support through your portal access to communicate important order updates and related questions.
(These services are also included in Package #3 ("Complete Concierge").
Phone access to dedicated Specialist assigned to your project.
30-minute schedule Wrap up Call
Registered Agent Services
The Registered Agent receives all physical mail on your behalf and forwards it directly to you. The RA Service offers proactive surveillance for your organization's compliance status with your home state. You receive immediate notification of any important information and can access all state documents in our secure, cloud-based portal.
First Year Included $129 Annually
Charitable Registration (in state of incorporation)
We'll file a license to solicit donations and register your nonprofit as an official charity in your home state. 40+ states require this license before asking for donations.
We accurately and timely prepare and file your organization's required IRS Form 990-N at the end of your first fiscal year.
Fundraising, Management and Administration Support
Access an extensive collection of educational guides, templates, and workbooks to effectively run your nonprofit.
FastTrack your order to the front of the line with other concierge orders.
Live Monthly Q&A Webinars
Access members of the BryteBridge Team to answer key operational questions regarding start-up basics, Board Management, Volunteer Engagement, Program Development, and Fundraising.
Some states require applying separately to exemption from state sales and income taxes. We'll help you file any paperwork required in your state.
Sneak Peak Inside our New Nonprofit Platform
Easy to navigate, everything in 1 place.
Frequently Asked 510(c)(3) Questions
Fast and prompt service. My State documents was approved in 7 days. Just signed my Completed 1023 application. Looking for that to be approved before the month is out.
We have received everything, in such a timely fashion. Far beyond my expectations. My Nonprofit specialist went above and beyond in helping me, us, Hospice Lens!
I would have hired someone who was more expensive and without enough vast and broad knowledge in 501c3. In other words, no other company would know that the 501c3 is retroactive to the date you set up the nonprofit. Thank Goodness for BryteBridge
Emunah Warehouse of Florida Inc.
I called an attorney that handles becoming incorporated. I didn't like the cookie cutter approach that they offered. I needed to understand the process of starting a nonprofit. They had neither the desire nor time (unless I paid them a substantial fee of course) to help me. It was at this time that I Googled "How to start a nonprofit" BryteBridge was one of the links that came up. I chose BryteBridge because it was literally a one-stop shop for all of your nonprofit needs. From forming a 501c3 to Grant writing and even Website design.
Legacy Community Restoration Foundation
I chose BryteBridge for its know-how and skills as well as its leadership.
Collective of Thinkers for the Sustainable Development of Haiti Inc
We chose BryteBridge because of their long-time experience.
God's Light International Ministries
Awesome Service! BryteBridge got my state and IRS paperwork completed faster than if I did this on my own. You get the job done the right way. 
Heritage Erudite Charter School
A friend of mine who started a nonprofit 2 years prior told me about BryteBridge and how easy you made the 501(c)3 process for her and her ministry. After I spoke to her in length, another friend reached out and said they used you as well. 
Restoration Nation Retreat
We chose BryteBridge because of the reviews and your agency called me back other agencies did not respond quickly. BryteBridge staff has encouraged me to continue my efforts because they have been an aide assisting me by answering and addressing my questions.