What is 501(c)(3) Tax Exemption?
When you've begun the process of starting a nonprofit, one of the first questions you encounter is: what is a 501(c)(3), and how can it help my organization? 
The recognition of your organization as a 501(c)(3) tax-exempt entity by the Internal Revenue Service (IRS) offers many advantages in helping your organization receive donations and establish credibility. Primarily, having an active 501(c)(3) status allows donors to receive a tax deduction, provides grant funding eligibility for the nonprofit, potential tax exemption at both state and federal level. 
Here at BryteBridge, we can help you gain active exempt status with the IRS, guaranteed. We are one of the nation's top 501(c)(3) service providers, helping over 35,000 nonprofits move forward successfully. In fact, we help close to 3% of nonprofits that get started each year in the United States. Get the help you need with your IRS 501(c)(3) application preparation from our dedicated nonprofit team.
501(c)(3) Tax Exemption Benefits
Get Advice From 501(C)(3) Formation Experts!
No Complicated IRS & State Paperwork 
The IRS estimates the start-up process to be 70-100 hours of work if you don't know what you're doing. We can complete the entire process in 10-15 days. Even Faster if you needed it expedited.
Access to Grants
Once you receive your  501(c)(3) tax-exempt status, you are eligible for grant funding to help maximize your funding opportunities. 
Guaranteed 501(c)(3) Status
After helping 35,000 nonprofits obtain their 501(c)(3), we are confident in guaranteeing our work, or we will offer a 100% refund.
We Help You Obtain 501(C)(3) Tax Exempt Status With The IRS
At BryteBridge, we help you understand what a 501c3 is, and offer dependable 501c3 document preparation for nonprofit organizations at a fair price. If you need help with understanding the requirements to start a nonprofit, our professional team of consultants can prepare all of the necessary documentation to secure your organization's tax-exempt status from the IRS. 
Our services include Form 1023, Form 1023-EZ, Financials, Articles of Incorporation, EIN or Tax ID#, Bylaws, State Tax Exemption, Charity Registration, Corporate Book & Seal, Conflict of Interest Policy, Foreign Registration, Group Exemption, Fictitious Names (DBA) and State Annual Reports. We also can review your organizing documents, assist with follow up with the IRS in response to official correspondence, and even assist with other 501(c) designations.
BryteBridge is your reliable partner when you want to know what steps are needed to make your organization a 501c3 tax-exempt entity. Our passion is to help your nonprofit succeed.
Streamline your 501(c)(3) Nonprofit Formation
The 501(c)(3) tax exemption process can be extremely complex and difficult to follow. You do not want your organization to be at risk due to inexperienced volunteers or companies processing your IRS Form 1023 & IRS 1023 EZ. If done improperly, the processing of your 501(c)(3) status and 501(c)(3) application can be delayed for months. Here at BryteBridge, we work with clients nationwide, having filing expertise in all 50 states and U.S. territories.
Moreover, we guarantee approval of the 501(c)(3) status, and work fast to get quick approval for your nonprofit organization. In some cases, we have assisted nonprofits in receiving their status in less than 30 days. Allow our skilled consultants to complete the necessary documents for your nonprofit. Count on our nonprofit solutions for all your needs. From helping you understand what a 501(c)(3) is to incorporation and launching your website to receive donations, we know how to fast-track your growth.
501(c)(3) Tax Exempt Requirements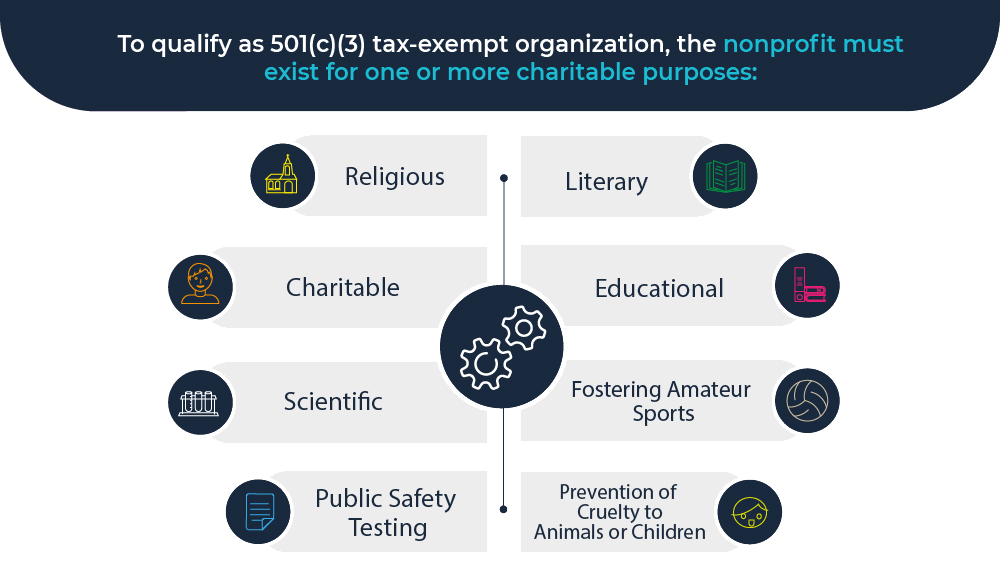 Your Nonprofit Deserves a Great Start!
Price Match Promise
If you find a current lower price within 30 days after purchase, provide the proof, and we will adjust your payment to the lower price or provide a credit toward other services. Additionally, we will provide a $50.00 credit toward a future service of $250 or greater. 
Nonprofit Pros 
Working with the BryteBridge professionals, you have experts by your side. Our Consultants and Specialists have 8+ years of experience working with nonprofits. holding board positions, or with formal nonprofit educational backgrounds. 
Streamlined Process
We prepare and file your documents in a timely manner, Incorporating in just a couple of days and filing your 501(c)(3) within 10-15 days. We also offer expedited options.
We understand that this process can be difficult, and you may need assistance starting a nonprofit. Our qualified nonprofit consultants and advisors have extensive experience in nonprofit formation and can help you navigate many of the common concerns new nonprofits face, including:
How long does it take to receive my 501(c)(3) approval from the IRS?
Can I solicit the public for donations while I wait for the 501(c)(3) is approved?
Can I put myself on a salary. How does that work?
Can my board members receive a salary?
If I start with the 1023 EZ application for my 501(c)(3) and then make more than $50,000, what happens?
What is the difference between a Private Foundation and a Public Charity?
Can I get a grant to start my nonprofit?
Can I pay myself back for this startup purchase?
BryteBridge is your one-stop resource center to Start a 501(c)(3) Nonprofit and Keep your 501(C)(3) in Compliance with the IRS and State.
After you purchase, it's just three easy steps!
Learn More About Our Features Below
501(c)3 Approval Guarantee
We guarantee your 501(c)(3) tax-exempt status will be granted by the IRS or we give your money back. We've helped over 45,000 nonprofit organizations and stand behind our work. 
A nonprofit consultant will help you determine your start-up readiness level and appropriate 501 application and educate you on the best BryteBridge solutions for your organization.
Secure Nonprofit Platform
24/7 access to your corporate & nonprofit documents, compliance status, and access annual reminders.
We complete to be submitted for exemption from federal income tax under section 501(c)(3)
Important Start-Up Documents
We provide a collection of documents to support your organization. They include:
Bylaws
Conflict of Interest Policy
Banking Resolution
Financial Projection Budget Template
Pending 501(c)(3) Letter
Start your nonprofit education with a collection of our guides. They include:
Board Member Giving Plan
Building Your Brand Identity
Donor Development, Life Cycle, and Recognition
Creation of your Nonprofit and articles "Charter" establishes your nonprofit in your home state. 
Obtain your Federal Tax Identification Number.
We research name availability in your state, prior to incorporation, to ensure the name you want is available.
For the full 1023 Form, the IRS requires actual or projected financial information (e.g., budget) for three years.
Most states require nonprofits to register with their Division of Charities prior to seeking donations.
Some states require the state equivalent to IRS 501(c)(3) status to be corporate tax-exempt. California and Texas are especially complex.
Unlimited online support through your Nonprofit Platform portal access to communicate important order updates and related questions.
Customer Service: 1-877-857-9002  M-F 9 am-7 pm EST.
Scheduled Consultations
Registered Agent Services
Our RA services ensure you do not miss important tax or legal documents mailed to your organization.
We accurately and timely prepare your IRS Form 990-N upon completion of your first tax year.
Frequently Asked Questions about Starting a 501(c)(3)
Ready to Get Started or Get More Information?
Or
Please Complete to be Assigned a Consultant and Book a Free Consultation.