Challenges in the First Five Years & the Impact of the Pandemic
BryteBridge's Essential Work of Emerging Nonprofits Study is the organization's inaugural report. It is the first in a planned annual series of in-depth analyses that will pinpoint challenges and solutions for sustainability in the nonprofit sector.
Core Concerns of New Nonprofits
Core Challenge #1: Compliance
Legal compliance issues are the biggest challenges for emerging nonprofits: 86% of nonprofits reported needing or seeking help in these areas in their first year and 20% cited establishing 501(c)(3) status as a top service needed in the first year of operation.
Filing Penalties and Revocation of Tax-Exempt Status
If a Form 990 or Form 990-EZ is not filed, the IRS may assess penalties on the organization of: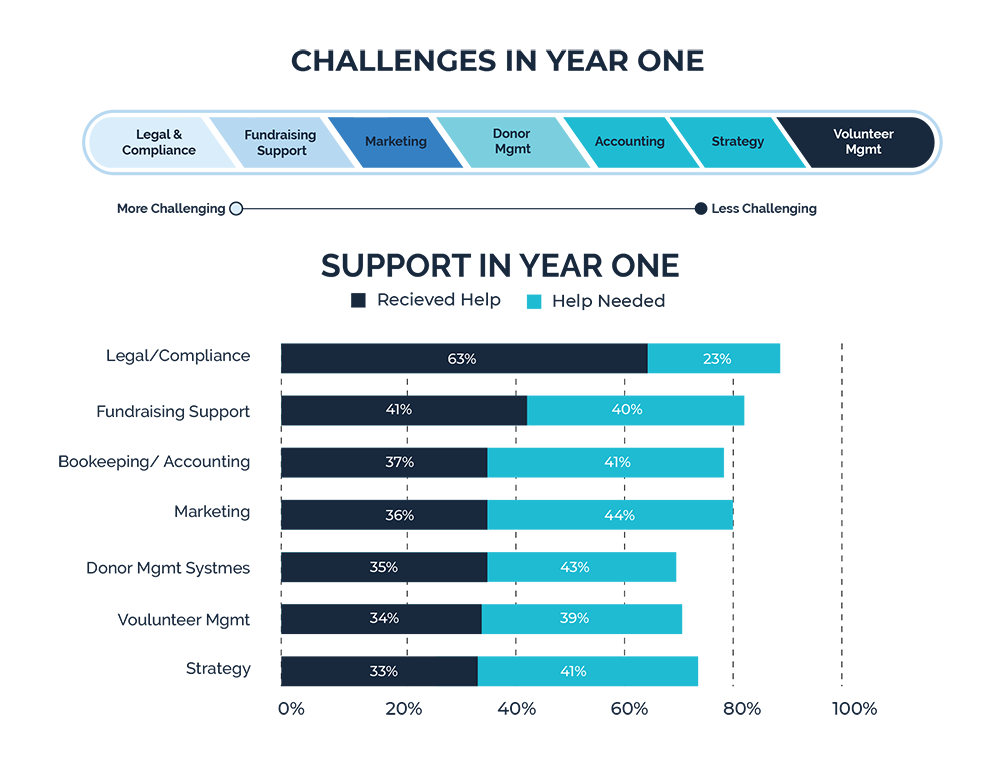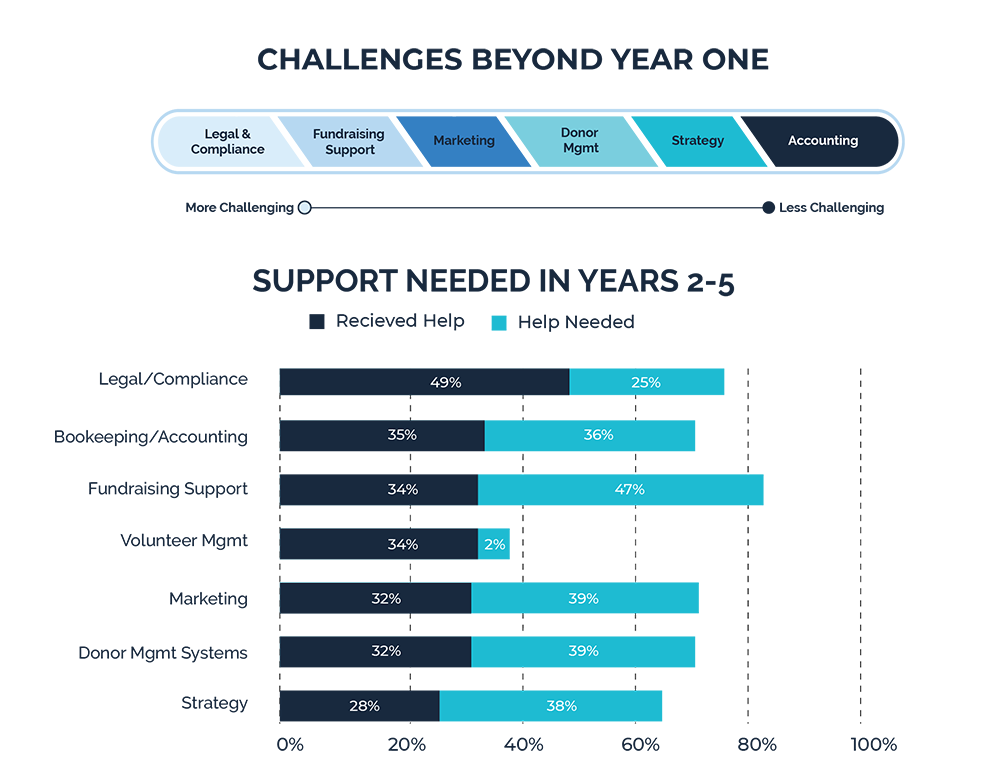 Core Challenge #2: Staffing
Staffing is a critical issue early in a nonprofit's existence: 73% of nonprofits report seeking or needing support with volunteer management in their first year. This drops to 36% in later years as organizations build up their teams. On average, 82% of organizations with paid staff had a payroll within the first 2 years of operations.
Building in time to develop a solid and consistent volunteer base is important. Many new nonprofits report challenges finding not only the right volunteers but the right board and employees.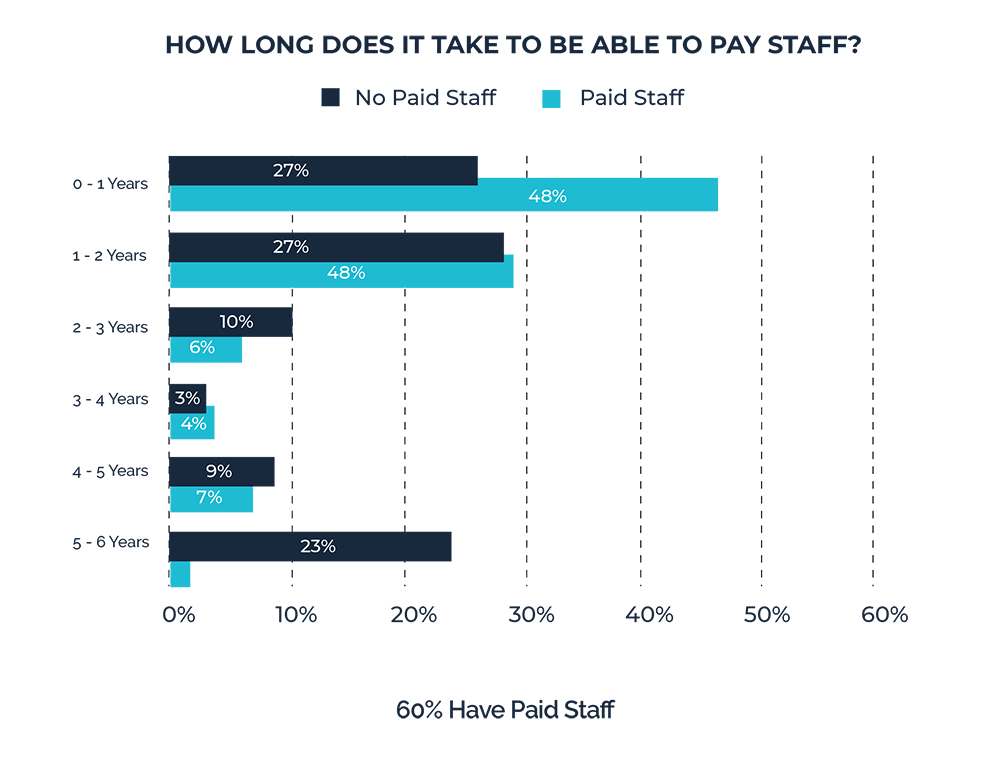 As a result of the pandemic, almost 60% of nonprofits had to furlough some or all of their staff, and over 20% had to implement layoffs. On average, nonprofits laid off or furloughed half their employees.
Core Challenge #3: Financial Health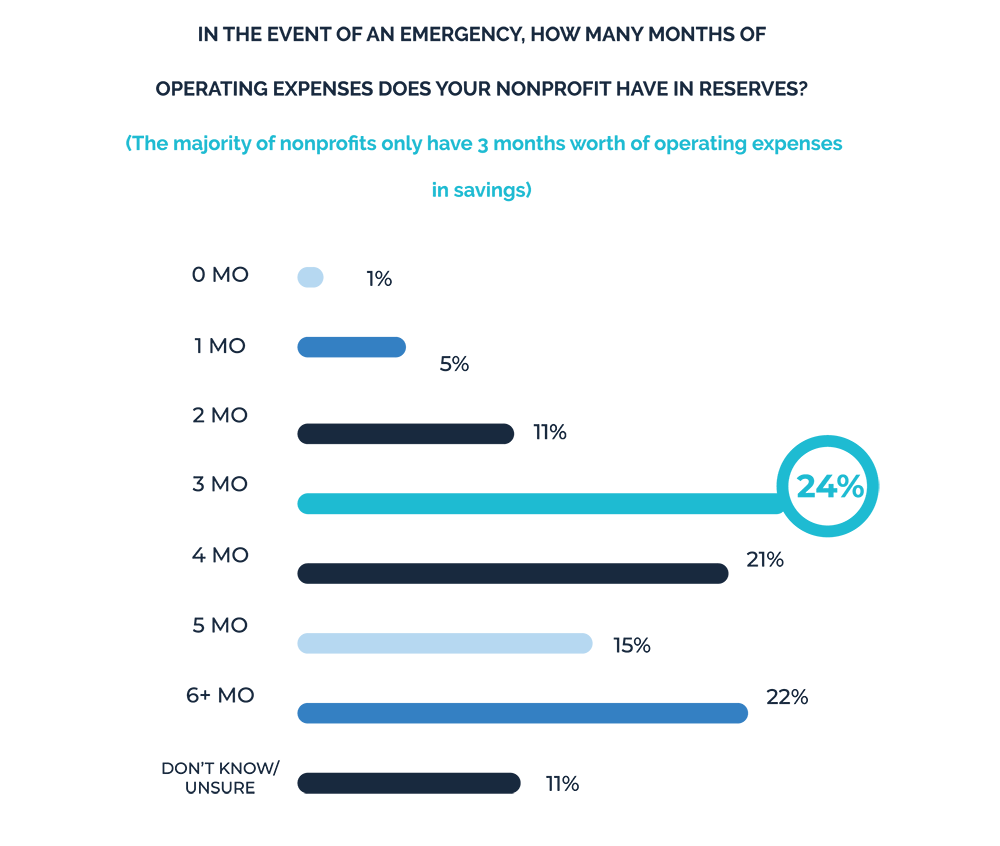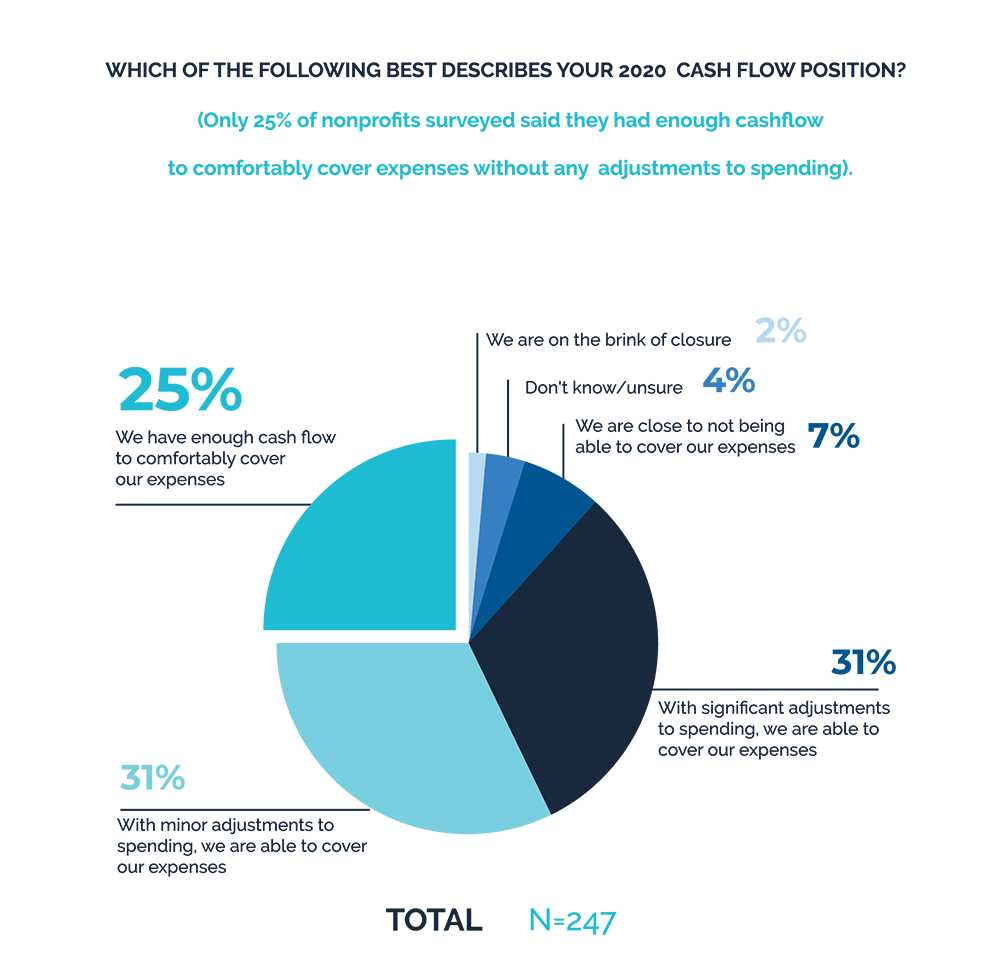 As of September 2020, just 25% of nonprofits said they had enough cash flow to cover future expenses. Nonprofits formed in the last five years were four times more likely to state that they were close to not being able to cover operating expenses than those with six or more years in existence.
The majority of nonprofits only have three months' of operating expenses in savings.
Organizations that provide resources or services had to change course. Jessica, founder of a nonprofit that delivers school supplies to at-risk children, had to pause all activity.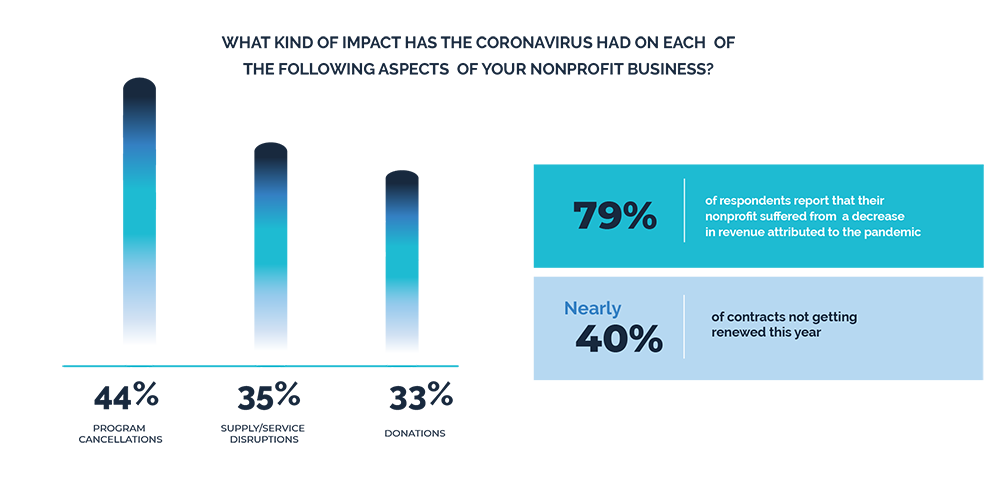 Core Challenge #4: Fundraising
Sustainable fundraising practices can be difficult for fledgling nonprofits: 59% of nonprofits cited fundraising as the service with which they need the most outside assistance.
Raising money when much of the nation is struggling financially, like when the pandemic hit, can be especially daunting. Morgan, founder of Bellingham Rock Camp, didn't know where to start:
33% of nonprofits said the COVID-19 pandemic has had a very or somewhat negative impact on donations. In economic downturns, people make fewer charitable donations. In a remote environment, donors who are willing and able to give money can be even harder to find.
Traditional fundraising methods, such as in-person galas or events, aren't viable in the current environment. This has put a dent in the pockets of many nonprofit organizations who rely on charitable funding to stay afloat.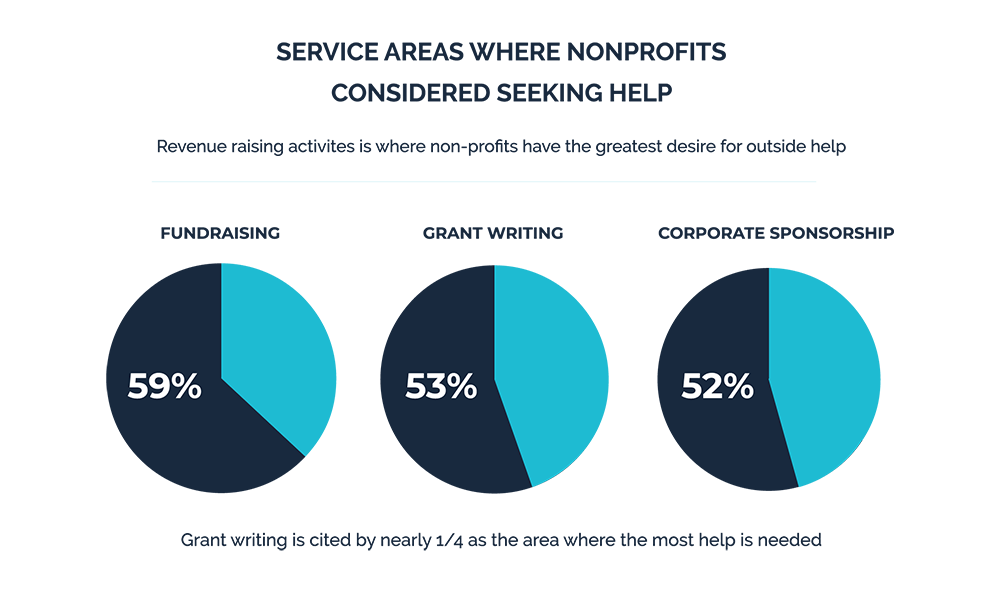 Why BryteBridge: Helping Nonprofits Survive and Thrive
As a nonprofit consulting firm, BryteBridge provides the specialized assistance needed to launch a successful and sustainable nonprofit organization. Over the years, the company has honed in on the unique challenges nonprofits face, especially during the critical start-up phase.
BryteBridge pairs nonprofits with consultants and experts with an average of seven years of nonprofit experience to assist with 501(c)3 or 4 status, scalability, compliance, and more. BryteBridge provides three core pillars of support to help nonprofits survive and thrive: Nonprofit Start-Up, Nonprofit Growth, and Compliance.
Since 2004, BryteBridge has served over 30,000 nonprofit organizations, including 4,000 in 2020 alone and on average establishes 150 new organizations each month.
Download a copy of our full study!