Outsourced Grant Management
During the growth of every nonprofit, there comes a time when you need grant management help, but you're not ready to hire a full-time grant professional or team. At that point, it's time to outsource to the grant experts at BryteBridge.
If you're like most nonprofit organizations, it is difficult to accomplish all that must be done each month to move your nonprofit forward. Along with your vision, there are plenty of tasks to meet your goals. But it's people-power you need to turn those ideas into reality. That's where the grant management solution by BryteBridge comes in to help your nonprofit gain operational efficiency by leveraging existing resources and scale to provide ongoing grant research, writing, and management to support your organization.
Our team will work with you in 3, 6- or 12-month engagements to help you set and pursue your grant and development goals. At the start of working together, you'll be assigned a Grant Coordinator who will meet with you to understand your organization and long-term goals. At the foundation of our grant management program is transparency and communication.
Each month, you'll meet with your Grant Coordinator for a 60-minute recap and strategy call to review and provide updates and align on goals for the upcoming month.
Overview of BryteBridge Grant Management Services
Grant Management Services are for established nonprofits committed to the long-term investment of an active and ongoing grant submission strategy. BryteBridge Grant Management Services are designed to save nonprofits cost while gaining a valuable resource and partner for their organization.
Outsourced grant management services provide nonprofit organizations with a team of partners specializing in grant research, grant writing, and ongoing management to nonprofits with access to more resources than most internal teams. Outsourced services are often a cost-effective alternative to an in-house grant professional or team frequently asked to wear too many hats to be effective in their grant management role. At BryteBridge, our grant services provide nonprofits a dedicated team that includes a grant coordinator and a grant writer while also offering access to multiple grant research databases and professional grant management technology. Additionally, we provide regular touch points and report on the grant activities' status to ensure transparency and accountability.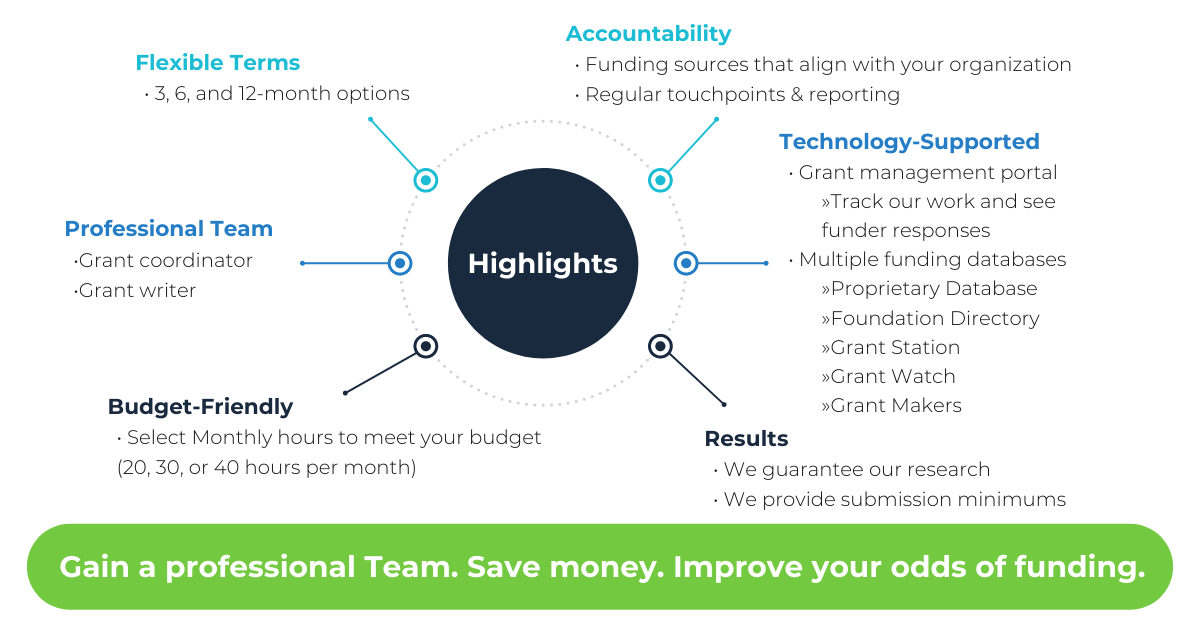 Ongoing Grant Management Services Include:

Dedicated nonprofit development team

Identify foundation priorities giving you a better chance at receiving funding

Regular touchpoints and reporting

Ongoing grant research and application submission to foundations serving your cause, programs, and geographical areas
Grant Management Technology to monitor the status of grant submission

Access to over 40,000 national granting foundations
Starting At
$
1,649
Per Month
Ideal for organizations looking to save money by outsourcing their day-to-day grant management.

3,6 & 12 Month Engagement Terms

Dedicated Development Coordinator

Expert Grant Writer

Grant Management Technology

Regular Reporting

Letter of Inquiry (LOI - if applicable)

Application Submission

Organizational Profile

Funding Overview

Budget Review

Financials Workbook

Guaranteed Submissions (based on engagement terms)
Fill in our registration form and one of our business consultants will contact you shortly.